Lake Garda transfer service
We provide an highly professional and all around complete transfer service, for groups or individuals, covering the main airports, stations and ports in the Lake Garda area, northern Italy's heart. Business trips, appointments and commitments are handled with absolute professionalism, ensuring a punctual and ductile service. We also offer transfer services for weddings and all kind of informal meetings, with a focus on reliability and privacy. You can ask for a quote on our website and book with just a phone call.
Book now our transfer services
Our vehicles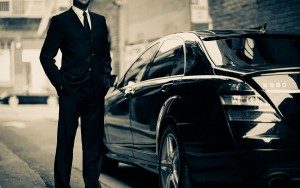 Our drivers will fetch the passengers right at the airport's exit, whether they land in Verona, Bergamo, Linate, Malpensa or Venezia, and transport them safely to any hotel or location in the area they request to be brought to. Our partnerships ensure a first class treatment from all the major hotels. We have the flexibility and equipment to range from a simple taxi service, to a full time discovery or business trip companion. Clients will hire cars with professional drivers, able to speak English, German, French and Russian and to handle all the customers' demands. Our selection of elegant vehicles provides an appropriate engine-powered support for any kind of need: from luxury sedans (Mercedes Class V), best suited for businessmen, to spacious vans for families, friends companies and teams (Mercedes Class E 4×4 Premium, Ford Tourneo Full Custom and Mercedes Vito Tourer Select).
Our selection of vehicles for transfer services
But it doesn't stop there
The crystalline beauty of the lake is just the canvas on which clients can paint their Italian experiences. We are at your disposal. Our chauffeur service can guide you through the beautiful cities, to visit all the natural and folkloric attractions that punctuate the territory. Intense shopping transfers, heady wine tours, incredible amusement parks and outstanding historical monuments are just a drive away from you.
Transfer service in Lake Garda Area
This area of Italy is particularly rich in places to visit and pieces of art and architecture to admire. Tourism and sightseeing are the results of a work of passion and perseverance that is internationally recognized as "Italian way of life".
Hire a car with driver and visit Lake Garda
Being located on the Sirmio peninsula in the lower part of Lake Garda, a luxuriant area blessed with a temperate weather, the city of Sirmione has been heavily inhabited since ancient times. In fact, it is famous for its historical remains, namely Roman buildings like the so-called "Grottoes of Catullus" (Grotte di Catullo), one of the few remaining examples of Roman private buildings' architecture, the Scaliger Castle, a medieval fortified port, and many churches from different ages (from A.D. 765, up to the 15th century).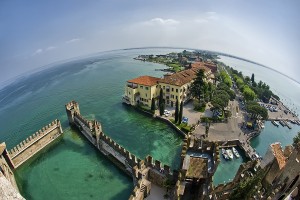 There are many small towns located on the shores of Lake Garda: Gardone and Salò lie right on its banks, and the latter is the one with the longest promenade on it.
On the eastern shore there are Lazise and Bardolino, and on the western one there are Riva and Manerba, all of which are studded by historical monuments and breathtaking views of the placid sheet of water.
Desenzano is the largest town on the lake and it's considered the pulsating center of nightlife on the southern shore of Lake Garda, with several discos and pubs. For its favorable climate and its fascinating blend of history and modernity, this town is a popular destination among young tourists in search of fun.
Our transfer service can bring tourists right from their airplane landing, all the way through these charming locations impregnated with historical, discovery and adventure spirit.
Gardaland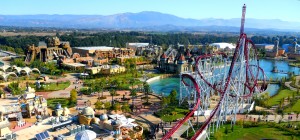 is the largest amusing park in Italy, and it's a short drive from Lazise. It covers an area of 445,000 m2 (4,789,940 sq ft), filled with original and themed attractions, festivals and entertainment shows. It attracts nearly 3 million visitors every year. Thanks to our transfer service, you can visit one of the many historical sites in the morning, with all the museums and the footprints of centuries of civilization, and then reach one of the greatest amusing parks ever built in the afternoon, to have an all around immersive trip with friends, families or colleagues.
Gardaland, the largest amusing park in Italy
Monte Baldo is a mountain massif with peaks as high as 2218 meters. Our vehicles can take you, in just a few minutes, from one of the beautiful hotels facing the lake, to Monte Baldo's cableway, which leads to the so called "Garden of Italy", where many types of sports, suitable for all seasons and personal tastes, are practicable. From hiking and climbing, to skiing and skydiving, everyone can find his rhythm of living on this mountain range that stretches for over 35 kilometers along the shore of the lake. The environmental diversity, ranging from Mediterranean to alpine, and the proximity with the lake, makes this an unique environment to experiment a unrepitable period of vacation.
Not far from the lake there's one of Italy's most beautiful cities: Verona. The city is one of the main tourist destination in northern Italy, owing to its artistic heritage, annual fairs, shows, and operas. 

The Arena di Verona:
an ancient amphitheater built by the Romans, where one can attend to one of the many shows of the lyrical season. Wondering around the streets of Verona with our transfer service, tourists soon understand that the Arena is not the only historical building in the city, in fact it preserves many ancient Roman monuments and because of this it has been named a UNESCO World Heritage Site.
Transfer service: we drive, you enjoy
With our service, you can just come down from your plane, and comfortably enjoy the view while you get transported to one of the astonishing hotels on the rivers of Lake Garda, like the renowned Villa Cortine (in Sirmione), for the night. From there we can take you to one of the many folkloric fairs and tours, like the wine tour in Val Policella, where you will admire panoramic views of the hills and the vineyards, and discover the entire range of Valpolicella wines DOC and DOCG. Pleasant views will be accompanied by a wine tasting session at a local winery of the best local products, including Amarone, Valpolicella Superiore, Ripasso and Recioto.
Jump on a taxi and reach wine tours in Italy
The more glamorous and fashionable clients may want to organize a trip to one of the main cities in the area: Brescia. Brescia is the second largest city in the region and is considered the industrial capital of Italy. Because of this, many big brands and producers of luxury goods, such as the prestigious Mille Miglia classic car, have established there their headquarters (and boutiques). In addition to these reasons, Brescia has its own artistic and historical value, and is one of the cheapest cities in Italy in terms of hotel stays, a strategic crossroads often used by tourists to easily reach all the near tourist destinations.
Whether you're planning an important business trip or a memorable vacation, our transfer service will satisfy all your traveling needs with celerity and precision.