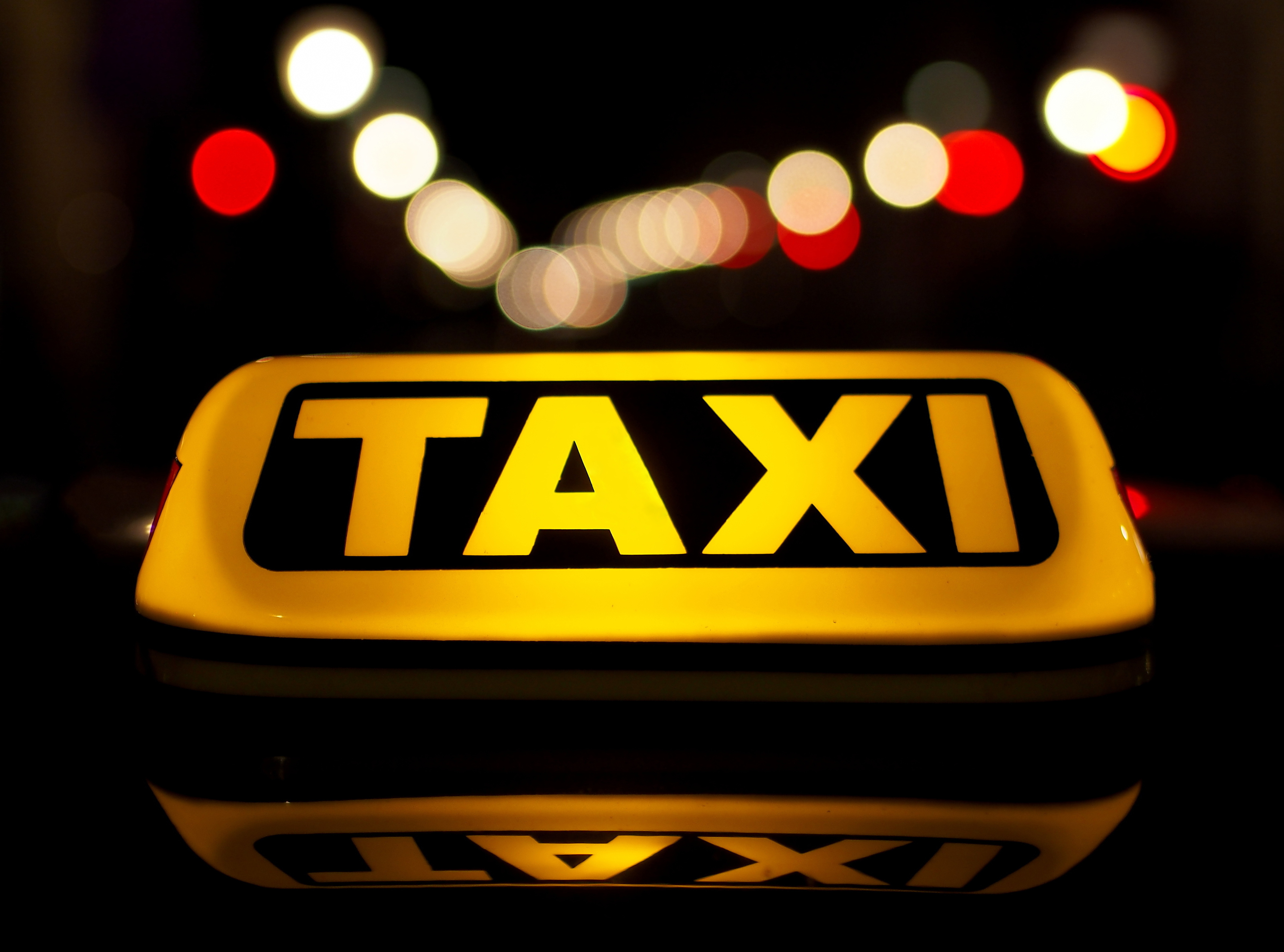 28 Jul

Taxi Service and Hotels in Desenzano area
Crippa NCC Taxi Service in Desenzano area
Crippa NCC provides an highly professional and all around complete taxi service in Desenzano area. For groups or individuals, we cover the main airports, stations and ports in the Desenzano area, northern Italy's heart. Our airport cab will fetch the passengers right at the airport's exit; then it will transport them safely to any hotel or location in the area they request to be brought to.
Business trips, appointments and commitments are handled with absolute professionalism, ensuring a punctual and ductile service. We also offer taxi services for weddings, wine tours, and all kind of informal meetings. 
Our focus is always on reliability and privacy.
You can ask for a quote on our website and book with just a phone call. You can book an awesome Wine Tour Taxi Service in Val Policella Today.
These are the main airports where our taxi service operates: Verona, Bergamo-Orio al Serio, Milano Malpensa and Milano Linate, Venezia and Brescia Montichiari.
Our airport cab service and Taxi Service in Desenzano and Lake Garda area are only active during daytime.
Our Airport taxi service in Lake Garda Area.
Desenzano by taxi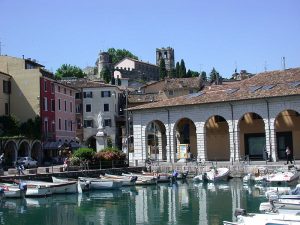 Desenzano del Garda is a town and comune in the province of Brescia, in Lombardy, Italy, on the southwestern shore of Lake Garda. The city is a popular holiday destination in Southern Europe. It attracts myriad of tourists from the immediate area owing to its many strengths:
its beautiful view of the Alps from the southern shore of Lake Garda, its three large beaches, and its 27 major hotels. Desenzano is the heart of nightlife on the southern shore of Lake Garda, with several discos and pubs.
In the summer, its main squares, Piazza Malvezzi and Piazza Matteotti, are crowded all night with tourists in search of parties and fun. At the heart of the city is a series of interconnected squares that house numerous open-air cafés, various shops, pubs, and bars. Check out Trip Advisor's Top Ten Desenzano del Garda Hotels.
Our Vehicles for Taxi Service in Desenzano area
Our airport cab will fetch the passengers right at the airport's exit, whether they land in Verona, Bergamo, Linate, Malpensa, Venezia or Brescia, and transport them safely to any hotel or location in the area they request to be brought to.
Our partnerships ensure a first class treatment from all the major hotels. We have the flexibility and equipment to range from a simple taxi service, to a full time discovery or business trip companion.
Clients will hire cars with professional drivers, able to speak English, German, French and Russian and to handle all the customers' demands. Our selection of elegant vehicles provides an appropriate engine-powered support for any kind of need: from luxury sedans (Mercedes Class V), best suited for businessmen, to spacious vans for families, friends companies and teams (Mercedes Class E 4×4 Premium, Ford Tourneo Full Custom and Mercedes Vito Tourer Select). Check out our selection of vehicles for taxi service in Desenzano area.
Our taxi service connects Desenzano to the main poles of tourist attraction.
Taxi Service in Desenzano area
Sirmione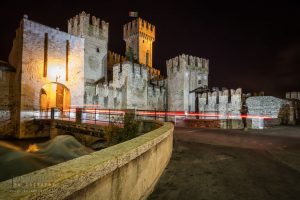 Being located on the Sirmio peninsula in the lower part of Lake Garda, a luxuriant area blessed with a temperate weather, the city of Sirmione has been heavily inhabited since ancient times.
In fact, it is famous for its historical remains, namely Roman buildings like the so-called "Grottoes of Catullus" (Grotte di Catullo), one of the few remaining examples of Roman private buildings' architecture; the Scaliger Castle, a medieval fortified port, and many churches from different ages (from A.D. 765, up to the 15th century).
The prehistoric settlement at Lugana Vecchia is part of the Prehistoric Pile dwellings around the Alps, a UNESCO World Heritage Site.
Salò
There are many small towns located on the shores of Lake Garda: Salò lies right on its banks, and the latter is the one with the longest promenade on it.
The city shines with the light of its history gems. From 1943 to 1945 Salò was the de facto capital (seat of government) of Benito Mussolini's puppet state, the Italian Social Republic, also known as the Republic of Salò.
Countless monuments and historically relevant buildings still stand on Salò's territory. Villa Castagna, Villa Amedei and Villa Simonini were administrative structures during Mussolini's reign. The Duomo di Santa Maria Annunziata, Palazzo della Magnifica Patria and Communal Palace are just some of Salò's main sights.
Lazise and Bardolino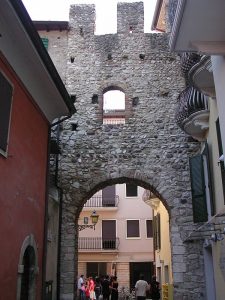 On the eastern shore there are Lazise and Bardolino, all of which are studded by historical monuments and breathtaking views of the placid sheet of water.
The medieval Church of Saint Nicolò, in Lazise has frescoes dating from the 12th century, by the school of Giotto. The customs house from the 16th century was constructed to control trade on the lake. During the 13th and 14th centuries, Lazise was occupied by the Scaligeri of Verona who built the castle and encircled the town with walls.
Archaeological excavations have proven the presence of humans in the area of Bardolino since prehistoric times. There also are traces of ancient Romans, though the modern settlement dates to the early Middle Ages. Even today, many churches testify a dense inhabitation since ancient times. Many tourist sites attract visitors from all the area and outside, such as the 11th century Monastery of San Colombano and the Zeni Wine Museum.  The last one,  has been realized inside a collectionist's Cellar and exposes objects above all of the Veronese wine culture.
You can book our taxi service with just a phone call.
Taxi service and Hotels in Desenzano area
Our Taxi Service can carry tourist to every Hotel in Desenzano area. Here, we present a list of the best and highest rated hotels in the area.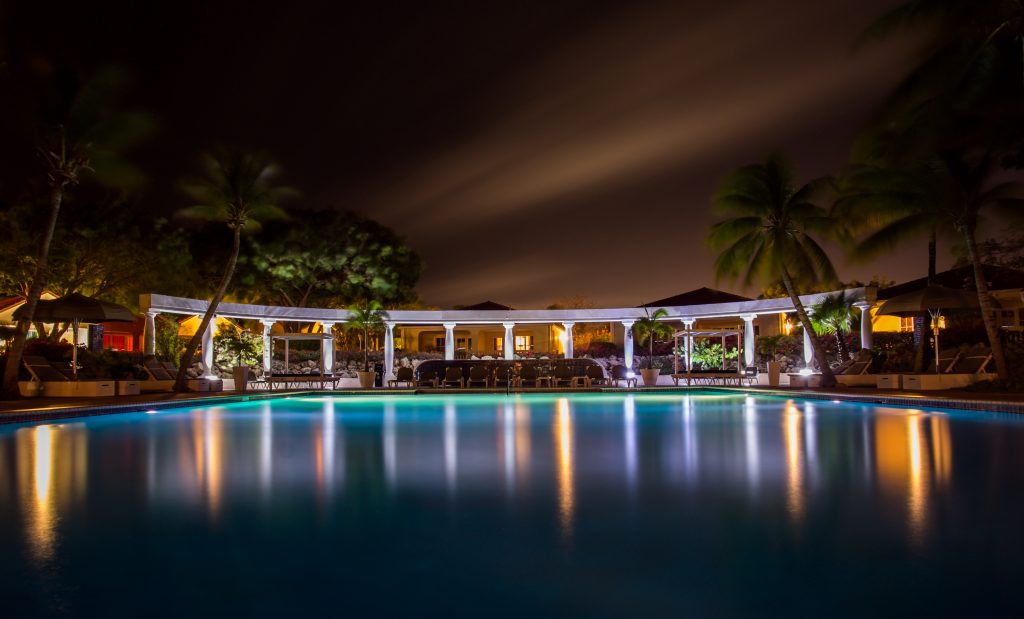 Park Hotel Desenzano
The only four-star hotel in the historic centre of Desenzano, Park Hotel has the charm of a private home and the services of an excellent Hotel.
In a privileged position location, on the lakeside in the historic centre of Desenzano del Garda stands Park Hotel. A 4 star hotel that, since 1879 under the name "Albergo Due Colombe", is a refined meeting point for international customers.
Discover the many services of this exclusive hotel in Desenzano:
Animals are welcome: with few obvious restrictions to ensure the tranquility of all guests and visitors;
Private parking garage: just leave your car keys at the reception, and the hotel staff will take care of your car, in their private parking garage;
Restaurant and cocktail bar: at the restaurant as at home. Young chefs reinterpret with verve the Italian cuisine, to give you emotions worth to enjoy that moment that makes the difference.
Swimming Pool: suspended between the sky and the lake, you can enjoy the warm sun, a refreshing bath, an ice-cold drink and a breathtaking panorama.
---
Hotel Nazionale Desenzano
A short walk from the lively center of Desenzano, stands Hotel Nazionale, a historic hotel that has been completely restructured and refurnished. 
Here the attention to design and trendy environments are joined with a comfortable and friendly service to give life to an exceptional Three Stars Superior Hotel.
Hotel Nazionale in Desenzano del Garda is a 3-star superior hotel, open throughout the year, located near the town center and the pedestrian area, easily accessible from the train station and from the Desenzano and Sirmione highway exits.
Many different services are offered by this highly rated Hotel, the most relevant being:
Hydro-massage-Jacuzzi;
Bar "Lounge Dionysus" for drinks and snacks;
Transfer to the airports (extra charge);
Swimming pool with solarium;
Carrera Bike free rental;
and many more.
---
Villa Rosa Hotel Desenzano
The Villa Rosa Hotel Desenzano is a 4-star hotel overlooking Lake Garda, at a short distance from the downtown. It will amaze the visitors with its unique style – luxurious but never formal, fresh and always friendly. It combines the unmistakable touch of an old neoclassical lakeside villa with a sparkling modern presence.
Lying in the sun next to the heated pool, sitting on the beautiful terrace overlooking the lake and being cared for by staff renown for its friendliness, you will truly experience the natural beauty of Lake Garda.
The Rose & Sapori Restaurant, new in 2010 to the Villa Rosa Hotel, opened in March of 2010 under the auspices of two famed and internationally renowned chefs: Carlo Bresciani and Bruno Piovanelli.
With their skills, they help tourists discover delicate Garda dishes. Fish, meat, and vegetables, as well as dishes from other regions, all suitable for vegetarians and coeliacs.
In the Villa Rosa Hotel garden overlooking Lake Garda, stands the round, beautiful, and elegant seasonal outdoor pool. Immerse yourself in the pleasant salt waters of the whirlpool, surrounded by greenery with chaise lounges and tables. Here, you can really enjoy the peace and scenery of the Lake.